From http://www.findagrave.com/cgi-bin/fg.cgi?page=gr&GSln=broom&GSfn=phillip&GSbyrel=all&GSdyrel=all&GSob=n&GRid=17410311&df=all&
Maj Phillip Ward Broom
Birth: Nov. 14, 1930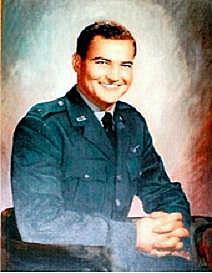 Monroe
Union County
North Carolina, USA
Death: Nov. 3, 1967
Bien Hoa, Vietnam

US Air Force MAJ Phillip Ward Bloom, Vietnam Veteran, Native of Monroe, NC.

US Air Force MAJ Phillip Ward Bloom was a member of the Air Force. MAJ Broom served our country until November 3rd, 1967 in Binh Hoa, South Vietnam. He was 36 years old and was married. It was reported that Phillip died when his plane crashed. His body was recovered. MAJ Broom is on panel 29E, line 014 of the Vietnam Memorial Wall in Washington D.C. He served our country for 14 years.

David Williams, I love you, Phillip. The family and I miss you. Richardson TX 75080, davidwilliams@email.com.

Written by: Victoria Mackey, Correspondent, Indian Trail Newspaper. Major Phillip Broom was the son of Ward and Mary Broom of Monroe, North Carolina, born on November 14, 1930. Ward ran a cotton gin in the Houston community however the family lived in Monroe on Griffith Road. The Brooms had two children, Phillip and Elsie (Mrs. Robert E.) Lee. Phillip was an honor graduate of Monroe High School and he received his Engineering degree from Duke University. While at Duke, he became the President of the Order of St. Patrick. Upon graduation, he entered the Air Force in 1953. While in the Air Force, he was a test pilot for several years. He flew the world's largest bomber, the B-36 for a year before flying the F-86D fighters with the 39th Fighter Interception Group. After several assignments in the Far East, he became flight commander of the 37th Fighter Interceptor Squadron at Ethan Allen Air Force Base in Vermont. He attended Interceptor Weapons School at Tyndall Air Force Base in Florida and he became a weapons training officer until 1961 when he went to graduate school at the University of Washington at Seattle, where he earned his Masters Degree in Engineering. He became responsible for the Air Force's tests of the avionics system for the F-111A, which was a new fighter jet.

His sister, Elsie, stated that he almost became one of the first astronauts however he was cut at the very last from the program and he was sent to Vietnam as a fighter pilot in August 1967. Elsie remembers that Philip would write home telling his family that the United States military should be there in Vietnam.

The family was told by the Air Force that he "died in South Vietnam on November 3, 1967 as the result of extreme multiple injuries received in an aircraft crash. He was the pilot of an A37 aircraft on a combat sortie. Upon return to Bien Hoa Air Base in South Vietnam, his aircraft made a normal approach to the runway but crashed 1,000 feet short of the runway. Death was apparently instant." He was 37 years old when he was killed and had made the Air Force his career. His sister said that the family learned later that his aircraft had been shot during the combat sortie and that is why it crashed just short of the runway. He received the Purple Heart and numerous other medals, according to his sister.

Elsie described him "as nice a young man you could find". She said that everyone who knew him, always liked him. Phillip married late in his life, on June 10, 1962 to Phyllis Dean of Kings Mountain and they had two sons when he died-Ward, age 2, and Tommy, age 4.

He served with the 604th Air Commando Squadron, "Combat Dragon", 3rd Tactical Fighter Wing, 7th Air Force.

He was awarded The Purple Heart Medal for his combat related wounds, The Vietnam Service Medal, The Republic of Vietnam Campaign Service Medal, The Air Medal with Multiple Oak leaf Clusters, The National Defense Service Medal and The Good Conduct Medal.