From http://defender.west-point.org/service/eulogies.mhtml?&u=20289
20289 Cassells Jr, Cyrus Curtis
September 12, 1933 - January 02, 1999

I am saddened to report the death of our Classmate, Cyrus C. Cassells, Jr., on 2 January 1999 at his home in Escondido, CA. Cy died from lung cancer. His funeral and a memorial service, attended by several Classmates, were held on Saturday, 9 January. With him at the time of his passing were his wife, Isabel, and their three sons, Cyrus III, of Texas, and Kevin and Robert of Los Angeles. Cy separated from the USAF in 1967 and went almost immediately to work with NASA, with whom he remained until his retirement. For the past several years he had been a principal docent at the San Diego Aerospace Museum. His Company mates from I-1 and the entire Class will miss this most singular and gracious gentleman. Be Thou at Peace, Well Done.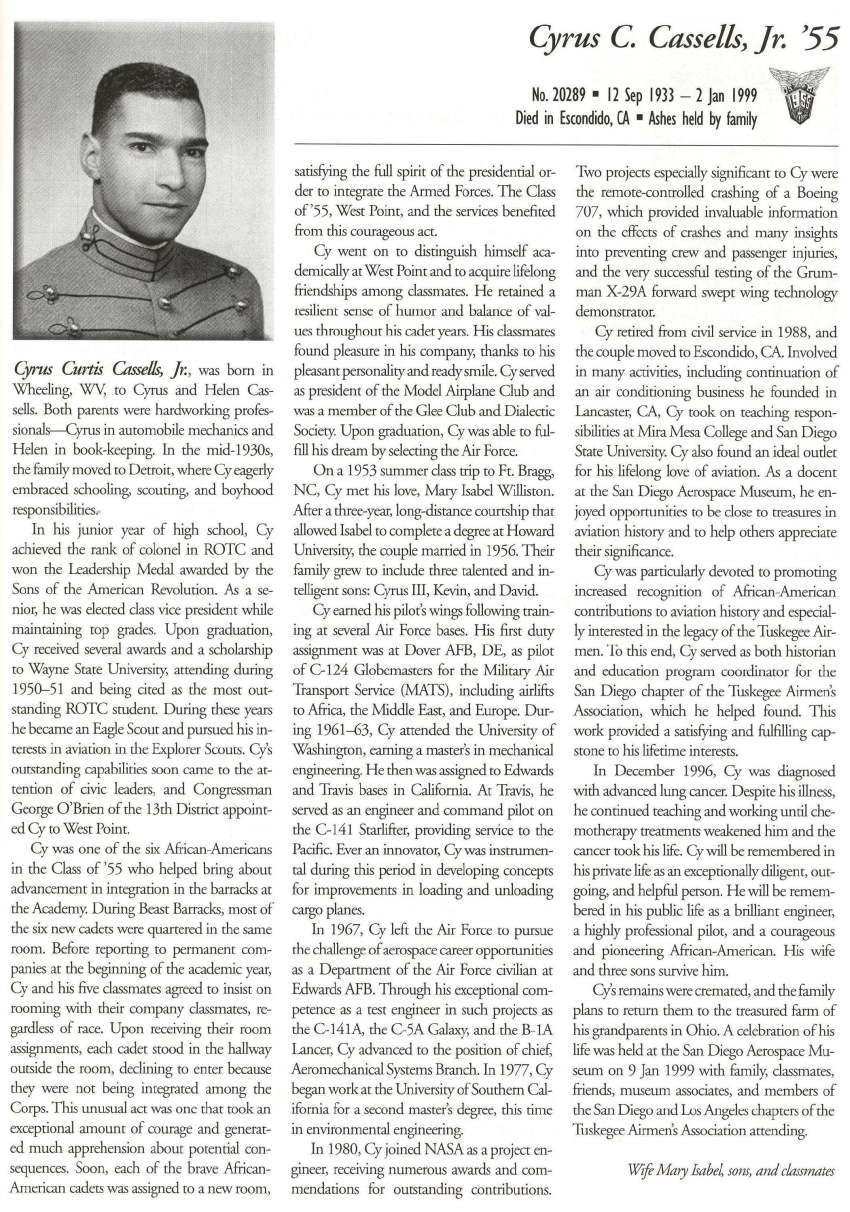 From http://defender.west-point.org/service/display.mhtml?u=20289&i=2062
Cyrus Cassells Jr., 65; historian for Tuskegee Airmen chapter

Jack Williams
STAFF WRITER,UNION TRIBUNE

Friday 8 JAN 1999

Cyrus Cassells Jr.'s most challenging mission came several years after duty as an Air Force pilot and flight test engineer. As historian and spokesman for the San Diego chapter of the Tuskegee Airmen Inc., he was dedicated to seeing that pioneering African-American aviators were recognized for their role in the history. Beginning in 1995, he spearheaded a campaign that resulted in the unanimous support by Tuskegee Airmen chapters of a resolution he wrote endorsing retired Army Lt. Col. Charles M. Bussey for the Medal of Honor. Mr. Cassells, a retired flight test and aerospace engineer, died of cancerSaturday at his home in Escondido.

He was 65."For the last five years, he had been working with me to get the Army to correct the official history of the black Army," said David K. Carlisle, a fellow graduate of the U.S. Military Academy. Long before his involvement with the Tuskegee organization, Mr. Cassells was among six African-Americans in 1951 who brought integration to dormitories at West Point, Carlisle recalled. "Each reported to his new company and received his room assignment," Carlisle said. "Then, each stood in the hallway outside his room, declining to enter. After considerable time, each was assigned to a new room with white roommates."

Mr. Cassells found two ideal outlets for his lifelong love of aviation after moving from Lancaster to Escondido in 1991: the San Diego Aerospace Museum and an education program designed to reach both children and adults. Mr. Cassells led tours at the Balboa Park museum and helped coordinate the Willa Brown Aviation Program, offered through the San Diego Community College District and the San Diego Housing Commission. "Busloads of kids from the San Diego Unified School District would go to Gillespie Field, where Cyrus would talk to them about aviation and show them through planes," said Lois Bruhn, manager of economic development for the San Diego Community College District. "He was a wealth of information and loved helping people develop their potential. With his contacts, Cyrus brought employers, aviators and others to talk to children and set up aviation days." Mr. Cassells also reached single parents and women through the Willa Brown program, exposing them to the various career opportunities in all phases of the aviation industry. "If he didn't have the contacts to bring in, he found them," Bruhn said. "He gave of himself and didn't expect any payment back. He was a great man, and I haven't met many like him." Although his expertise was aviation, Mr. Cassells also aided the community college district in a program to recruit heavy equipment operators, Bruhn said.

A fountain of knowledge on the history of aviation, Mr. Cassells was especially interested in the legacy of the Tuskegee Airmen, the first blacks to be trained as military pilots in the United States. The airmen escorted American bombers over Europe and North Africa in World War II, providing a virtually impenetrable shield while shooting down hundreds of German fighter planes. Their pioneering efforts, in facing racial barriers and paving the way for future black aviators such as Mr. Cassells, were the subject of a 1995 HBO movie, "The Tuskegee Airmen." One of those airmen was Roger C. "Bill" Terry, Mr. Cassells' brother-in-law. Terry was assigned to Freeman Field, Ind., where he eventually was court-martialed. In August 1995, the court-martial was reversed "on the basis of equity," vindicating Terry's belief that the real issue was the color of his skin. Tuskegee Airmen Inc. was formed in 1972 and has expanded to 39 chapters, including the one in San Diego, which opened in 1995. Born in Wheeling, W.Va., Mr. Cassells grew up in Detroit and developed a passion for flying as a teen-age Eagle Scout. After a year at Wayne State University, he received an appointment to West Point. He joined the Air Force after graduation and served as a military air transport pilot. Mr. Cassells earned a master's degree in engineering in 1963 from the University of Washington and was assigned to Edwards Air Force Base. He worked there 25 years, both as an Air Force officer, attaining the rank of major, and as a civilian. Starting as a flight test engineer, Mr. Cassells worked his way up to projects engineer for the National Aeronautics and Space
Administration. When he retired in 1988, he operated an air conditioning business for a while, both in Lancaster and Escondido, where had lived since 1991. He is survived by his wife, Isabel; sons, Cyrus of Wimberley, Texas, and Kevin and David, both of Los Angeles; a sister, Edith Young, and brother, Norman, both of Detroit.