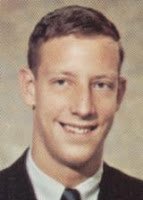 Ronald J. Faris, BHS 1969
AIR FORCE FLIER DIES IN DESERT JET CRASH
Daily News of Los Angeles (CA) - Wednesday, February 12, 1986
Author: PATRICIA FARRELL AIDEM, Daily News Staff Writer

An Air Force flight engineer was killed Tuesday when the supersonic aircraft he was aboard crashed in the remote desert north of Edwards Air Force Base.

The pilot -- the only other occupant of the F-4 Phantom II -- ejected from the plane and parachuted to safety. The 8:27 a.m. crash near Boron, 10 miles north of Edwards, killed Maj. Ronald J. Faris, a 1969 graduate of Burbank High School . An unknown civilian pilot in the vicinity radioed the base when he spotted Phantom pilot Capt. Douglas M. Moss on the ground waving for help, said Don Haley, an Air Force spokesman.
Faris was seated in the rear of the two-seat Phantom, said Haley, adding that officials are uncertain why he did not eject. The planes, built in St. Louis by McDonnell-Douglas Corp., have a good safety record at Edwards and are flown daily by trainees, he added.
Faris, 34, and Moss, 32, are assigned to the Edwards flight test center and were on a required proficiency training exercise, Haley said. The two were returning to the base 10 minutes after takeoff when they declared an emergency, Haley added. An investigative board was formed immediately to determine the cause of the accident.

Faris, a Glendale native, is survived by his wife Judith and the couple's two daughters, Kasey, 5, and Brook, 2. His parents, John and Marian Faris, recently moved from their Glendale home, Haley said. Faris has been in the Air Force since 1973 and had been stationed at Edwards since December 1981.

Burbank High Principal William Bertrand, Faris's gym teacher at Muir Junior High School, remembered Faris as a "good strong student, the kind of kid that always accomplished the extra effort." "Usually you remember two types of students -- those who present a problem and those who always excel," Bertrand said. "Ron was the second kind."

Tuesday's crash came exactly two weeks after the space shuttle explosion that killed seven astronauts, including two men who had trained at Edwards. The accident also came in the wake of Edwards' announcement of its perfect 1985 flight safety record.