From http://www.nvahof.org/hof/hof-2012/david-l-ferguson/
David L. Ferguson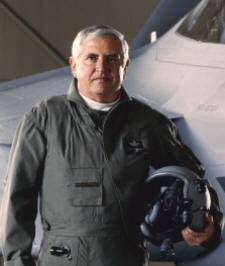 David Lynn Ferguson was a test pilot and decorated combat veteran with four decades of flying experience in advanced fighter aircrafts. With 20 years in the Air Force and another 20 years at the Lockheed Skunk Works, he is best known for test flying the YF-117A and YF-22A stealth fighter prototypes.
[Biography]
Born on October 4, 1938 in Altoona, Pennsylvania, Ferguson graduated from Altoona High School in 1956, and for three years worked as a draftsman. In 1959, he enlisted in the Air Force as an Aviation Cadet, earning his commission and pilot's wings at Vance Air Force Base in Oklahoma in 1961. He flew the F-102 Delta Dagger during his first operational assignment, and then transitioned to the F-105 Thunderchief. During his first combat tour in Southeast Asia, he flew 48 combat missions from Korat Royal Thai Air Base with the 357th Tactical Fighter Squadron. Ferguson earned the Distinguished Flying Cross (DFC) for the first successful strike mission against North Vietnamese surface-to-air missile installations.
He returned to the United States in the fall of 1965 and became a flight instructor in the F-105 at Nellis Air Force Base in Nevada. During this time, he earned his Bachelor's degree in Mathematics from the University of Nebraska.
Two years later, Ferguson volunteered for a second combat tour. Once again stationed at Korat, he flew 54 combat missions in the EF-105F, a new version of the Thunderchief, equipped for flying hazardous "Wild Weasel" sorties to suppress enemy air defenses. His squadron was responsible for missions within Route Pack Six, a region that included the heavily defended Hanoi corridor in North Vietnam. It was one of the most hazardous duty assignments for combat pilots in Southeast Asia. Ferguson earned a second DFC for the first successful night strike mission against North Vietnamese surface-to-air missile sites. Upon completion of his tour, he returned to the United States and entered a graduate program at Arizona State University, where he earned his Master's degree in Mathematics.
In 1971, Ferguson sought greater challenges as a test pilot at Edwards Air Force Base in California, and was a 1972 graduate of Air Force Test Pilot School Class 71B. Although assigned to the Air Force Flight Test Center's Fighter Branch at Edwards, Ferguson was first checked out in the U-2. He spent several months flying a high-altitude reconnaissance jet in a variety of programs including projects TRIM (Target Radiation Intensity Measurement) and Have Coffee, measuring the infrared signatures of missile launch plumes, satellites and reentry vehicles. Then, he evaluated redesigned pitot-static probes with a modified air data compute on an F-105B. He also served as a project pilot on several programs using the F-4E for wet runway tests, air starts, and to drop a variety of parachute test articles.
In June 1973, he was assigned to the 6512th Test Squadron's Special Projects Branch for projects Have Glib and Have Idea. Few details about these tests, which involved evaluation of foreign fighter planes, have been declassified. Six months later, Ferguson was promoted to the chief of the Special Projects Branch. He traveled to Japan in 1975 to conduct ground evaluations of a Soviet MiG-25 which a defector was flying from Russia. In December 1977, the Special Projects Branch was upgraded to the squadron status and Ferguson was promoted to the commander of the newly formed 6513th Test Squadron, known as the Red Hats.
Upon his retirement from the Air Force in 1979, Ferguson joined Lockheed's Skunk Works organization as a test pilot for project Senior Trend, the first production stealth combat aircraft. The full-scale development airframes were designated YF-117A, and the production model was called F-117A. He was the second company pilot to fly the YF-117A, participating in all phases of the flight test program including flying qualities tests, structural demonstrations, high-angle-of-attack maneuvering limits, and weapon separation tests. By 1986, he had flown 500 flights.
On September 29, 1990, as a chief test pilot for Lockheed's Advanced Tactical Fighter Program, Ferguson conducted the first flight and initial airworthiness demonstration of the YF-22A. He was promoted to the director of flight operations for the Skunk Works in July 1991. He finally retired in 1999.
Ferguson was a member of the Red River Valley Fighter Pilots' Association, a non-profit organization devoted to generating awareness of prisoners of war, aircrews missing or killed in action, and providing scholarships to children of U.S. military personnel MIA/KIA in armed conflicts in Southeast Asia.
He logged over 6,500 flight hours in 60 different types of aircrafts. A fellow and past president of the Society of Experimental Test Pilots, Ferguson was twice honored with the Society's Iven C. Kincheloe Award, first in 1983 for a flight test of the F-117A, and again in 1991 for testing the YF-22A. In addition to his two Distinguished Flying Crosses, he was honored with eight Air Medals for his combat service and twice awarded the Legion of Merit for his work on classified programs. In 1998, he was inducted into the Aerospace Walk of Honor in Lancaster, California.
After a long battle with cancer, Ferguson died on August 10, 2011 in Quartz Hill, California. He was interred at the Arlington National Cemetery.