From Bob Kennington: "Steve Harman - he was a Director of the Electronic Warfare Directorate during his last assignment at Edwards."
From http://www.findagrave.com/cgi-bin/fg.cgi?page=gr&GSln=harman&GSfn=steven+&GSmn=alan&GSbyrel=all&GSdyrel=all&GSob=n&GRid=80924558&df=all&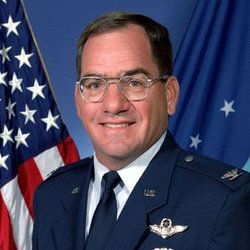 Steven Alan Harman
Birth: Nov. 5, 1951
Tacoma
Pierce County
Washington, USA
Death: Nov. 21, 2011, USA

HARMAN, Steven Alan On Monday, Nov. 21, 2011 Colonel (Ret) Steven Alan Harman took his final flight; while he lost his 2 year battle with cancer, he fought furiously until the very end. Steve lived a large life, embracing every moment and a huge hole is left in the hearts of all who knew him. He was born into a military family on Nov. 5, 1951 in Tacoma, Washington to Wayne and Elizabeth Harman. He traveled with his family to numerous assignments in both the U.S. and Europe, and despite ultimately settling down in Orting, WA he had the military bug. After graduating from Orting High School, Steve received an appointment to the U.S. Air Force Academy. He made his mark there in football, as a senior student leader and member of the 7th Squadron (aka Seagram's Seven). On graduation he was one of the first young officers in navigator training selected for the prestigious FB-111 aircraft. That assignment was the beginning of a 30 year love affair with flying, the Air Force, and the beginning of a distinguished career. His assignments covered a wide range of Air Force programs to include a flying the FB-111 and the B1 Bomber, and program management assignments in a number of classified and unclassified National Security programs to include the B2. While he had many roles during his career in the Air Force he was first and always an aviator. He embraced life in and outside of work; he was an avid hunter, fisherman, scuba diver, boater, gardener, hiker, and tech enthusiast. Most of all, Steve loved his family. He is survived by his SWAMBO (wife), Mary Cooper; daughter, Melinda and husband, Anthony Cavazos; son, Nathan Harman; grandchildren, Ethan, Elliot, & little Steven; as well as his parents, Wayne and Elizabeth Harman; brother, David and his wife, Sue Harman; niece, Melissa Gray, her husband, Jeff, their children, Dallen, Gavin and Keaton; nephews, Adam and Justin Harman, stepson, Jordan Arrisi and his son, Rylen.
Published in the St. Petersburg Times on November 24, 2011
Burial:
United States Air Force Academy Cemetery
Colorado Springs
El Paso County
Colorado, USA
See also http://brewerfuneral.tributes.com/show/Steven-A.-Harman-92822787