Obituary.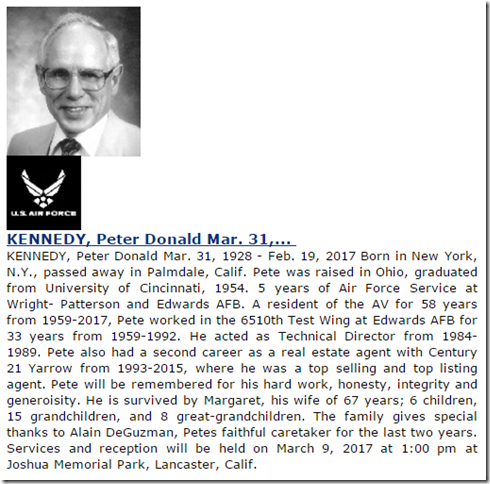 From Pete's family:
Peter Donald Kennedy March 31, 1928—February 19, 2017.
Peter Donald Kennedy was born in New York City on March 31, 1928. His father, Gordon Kennedy, came from Leeds, England to the United States via central Canada. His mother, Margaret Ochs, was born in Muskegon, Michigan, to recent German immigrants. To his friends, Peter was "Pete"; at Edwards, he was known as "Peter D."
Pete grew up in northern Ohio, in Lake Cable, Canton, and Cleveland. He graduated from Canton-McKinley High School in 1946. As a boy, Pete loved camping and other outdoor activities, including boating on Lake Cable in a canvas kayak he built from a kit. He was a devoted Boy Scout and earned the rank of Eagle Scout.
In 1947, during a summer job at the Louisville Public Warehouse, Pete met and fell in love with Margaret Enid Gabhart, his future wife of 67 years. They married two years later, in September of 1949. Pete graduated from the University of Cincinnati in June of 1954 with a degree in mechanical engineering and an ROTC rank of 2nd lieutenant.
After graduating, Pete began his military service with Basic Training in Missouri, and was given a position as a Second Lieutenant in the flight test program at Wright Patterson Air Force Base in Dayton, Ohio. During this time, his first three children, Donald, Susan, and David, were born. In 1959, he transitioned from a military to a civilian position at Edwards AFB, working on the barrier project.
Pete's long and distinguished career at Edwards extended from 1959-1992, beginning with a position as a flight test engineer and reaching its peak as the Technical Director of the 6510th Test Wing from 1984-1989. During these years, he presided over the massive re-organization of the AFFTC, a major task in Air Force history which involved the dis-establishment of the 6520th Test Group and the establishment of the 6510th Test Wing at Edwards. One of Pete's major contributions was to establish a new division of labor between technical and business management positions, which freed engineers and test pilots to focus on their areas of expertise rather than the financial management of projects.
Pete received the AFFTC Outstanding Civilian of the Year award in 1981, and the Department of the Air Force Award for Meritorious Civil Service in 1989. His distinguished career included the honor of representing the United States in the International Society of Flight Test Engineers in a conference in Rome, Italy. According to Colonel Don Flood, speaker at Pete's retirement ceremony, "Pete Kennedy's fingerprints are over every square inch of Edwards AFB." He was highly respected by his Edwards AFB colleagues for his hard work, expertise and commitment to excellence, but he was also remembered for his humility, caring, and kindness to all, regardless of rank or position.
After their move to California in 1959, Pete and "Marty" lived in Lancaster and added three more children to their family: Jonathan, Philip, and Stephanie. During these early years, Pete was very active as a deacon at Central Christian Church. He and Marty were leaders of the high school youth group, and took them on many fun trips especially to the beach, which Pete loved. He served as the chairman of the building committee at Central Christian, and was instrumental in the building of the new facility at Cedar and Pillsbury, completed in 1968 under his supervision.
One of the conditions of their moving to California was Pete's faithful promise to take Marty to see her family in Indiana every other year. When all of the children were young, these biennial cross-country treks were epic Route 66 journeys, forever remembered by all. Pete also enjoyed taking his family on hiking, camping, and backpacking trips to see the beauties of his adopted state. He especially loved King's Canyon, Mount Whitney, and the high country of Sequoia. When his children were young, he treated his family to Sunday afternoon drives and hikes all over the Antelope Valley.
In 1971 Pete moved his family to Leona Valley, a part of the Antelope Valley he had always loved. For 47 years he and Marty relished their panoramic hill-top vista from Leona Valley to Mount Baldy and beyond.
After he retired from Edwards AFB in 1992, Pete embarked on a second career as a real estate agent with Century 21 Yarrow, in Lancaster. Quickly mastering this new challenge, he earned many awards as a Top Seller and Top Listing Agent for his office. Pete was known and loved by his colleagues and clients for his honesty, hard work and commitment to customer satisfaction. According to his fellow real estate agents, Pete was knowledgeable, wise, and always willing to help--a strong, capable leader, yet humble and kind to all.
During his second career period, Pete loved to take his wife on trips to Hawaii and to visit her relatives in Indiana. He enjoyed his growing family, as sons and daughters-in-law, and eventually 15 grandchildren and 8 great-grand-children were added to his life.
Pete was still actively selling real estate at age 85, when he was forced to retire by health challenges. He remained involved with church and family through the next two years, with the support of his devoted wife and his excellent caretaker, Alain DeGuzman.
Those of us who knew Pete remember an intelligent, quiet man who never tooted his own horn, but few people realize the major contributions he made to the world he lived in. We remember Peter Donald Kennedy, March 1928-February 2017, husband, father, grandfather, and man of excellence.