From http://www.findagrave.com/cgi-bin/fg.cgi?page=gr&GRid=47662673
John Clifford Kidwell
Birth: Sep. 5, 1932
Death: May 14, 1996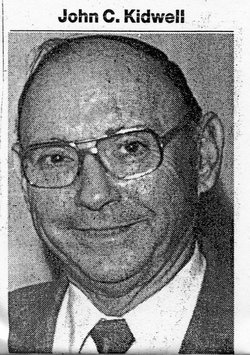 John died at the age of 63. He retired after working for 15 years as a aeronautical engineer with the Army of Defense Department office at Bell Helicopter Textron.
He had worked previously for Lockeed and the Defense Departement at Edwards Air Force Base in California.
As a hobby, John flew R/C model planes and was a member of the R/C club of Irving and the Fort Worth Thunderbirds.
He was a graduate of Kansas State University.John was married to Georgia Brenner Tipton. They had 2 children, Jeffrey and Susan.

Note: Buried in Chapel, South Row 6, Space 3

Burial:
Saint Vincents Cathedral (Anglican) Columbarium
Bedford
Tarrant County
Texas, USA