Obituary for Donald R. Smith

Donald R. Smith, born in Los Angeles, CA on February 12, 1924, passed away peacefully on Saturday, April 11, 2015 in San Diego, CA at the age of 91.

Don spent his early years in Monrovia, CA with his parents and six siblings. Following the bombing of Pearl Harbor, he entered the Army Air Corp in 1942 and was stationed in England. For three years he served as the upper turret gunner and flight engineer for his B-17 crew, completing 16 missions over Germany. Upon his return from World War II, Don used the G.I. Bill to get both a Bachelors and a Masters degree from the University of Southern California. He then became a flight test engineer at Edwards Air Force Base in Lancaster, CA where he worked for 28 years.

In July of 1967 he married Margaret Runge Smith. The couple enjoyed skiing, traveling, hiking, camping, birding, and yodeling all over the United States. Active members of the Sierra Club, they hiked the John Muir Trail. The two also entertained family and friends with their barbershop singing, and Don belonged to a barbershop chorus in Lancaster. Don Smith had three daughters: twins, Cindi Dunham and Cathi Smith from his first marriage, and Christine Sphar from his marriage with Margaret.

In 1979, Don retired from Edwards as Chief of the Flight Test Engineering Division and moved to Spain with Margaret and Christine to live abroad for a year. In 1980 the family moved to Big Bear Lake, CA where Smith served as a Planning Commissioner and was an active member of the Kiwanis Club. In 1989, Don and his wife Margaret lived for nine months in England, and in 1990 the couple returned to the U.S. and purchased a second home in Palm Desert. Don became a volunteer at the Palm Springs Air Museum where he conducted tours of a WWII era B-17.

After enjoying many years in Palm Desert and Big Bear Lake, Don and Margaret moved to San Diego to live closer to their daughter, Christine, and enjoy their grandson, Gabe. Donald R. Smith is survived by his wife of 47 years, his three daughters, two sons-in-law (Doug Dunham and Joey Sphar), and his grandson.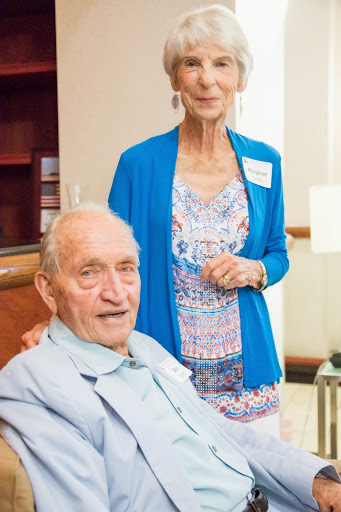 Don & Margaret at 2014 Edwards Reunion