From http://www.findagrave.com/cgi-bin/fg.cgi?page=gr&GRid=22946415
Claude L Steen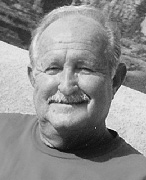 Birth: Dec. 9, 1937
Montebello
California, USA
Death: Nov. 11, 2007
Lake Havasu City
Arizona, USA

STEEN, Claude L. 69, a long time resident of the Antelope Valley passed away at his home in Lake Havasu City, Arizona on November 11, 2007. Claude, the son of Claude O. and Eleanor M. Steen, was born December 9, 1937, in Montebello, California. Claude lived in Pasadena, Calif., he graduated from Pasadena High School. He played trumpet in the high school marching band, and he marched three years in the New Year's Day Tournament of Roses Parade.
Claude married his wife, Bonnie, in 1958. In 1970, Claude and Bonnie moved to the Antelope Valley where they lived and raised their children for 33 years.
Claude worked at Edwards Air Force Base in the special instrumentation and calibration labs where he retired after 27 years of service. In 2003, Claude and Bonnie moved from Palmdale, Calif., to Lake Havasu City, Ariz., where they enjoyed boating and fishing. Claude was a wonderful husband and a devoted father and grandfather. Claude was a kind, compassionate man and a great example of character and integrity to all who knew him. Claude also had a great sense of humor, and he loved to play practical jokes. Claude is survived by his wife Bonnie, daughter Susie, son Daniel, grandchildren Carmen, Bonnie, Michael, Bradley, Ksenia and sister Janet.