From https://apps.westpointaog.org/Memorials/Article/20681/
Joseph F. Stroface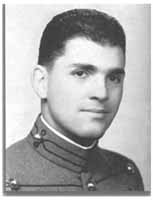 Joseph Francis Stroface, the son of Anthony and Lillian Stroface, was born and raised in Brooklyn, NY. He attended the local elementary school and, in 1948, graduated from Bushwick High School. Joe was an excellent student and also was very involved in baseball, the Catholic Youth Organization, and the YMCA. During his junior year, he met his future wife Rosa Arias. After high school, Joe worked as a shoe cutter at the Julius Altschul Company in Brooklyn.
In 1951, Joe enlisted in the Army. After going to basic training, he was sent to his first assignment with the 747th Amphibious Tank and Tractor Battalion at Camp Cook, CA. Things happened fast after that, because Joe secured a Regular Army appointment to West Point and then was transferred to the preparatory school at Stewart Air Force Base, NY. Joe whizzed through the prep school academic program with little or no sweat. He found ample time to play on the baseball team with Paul Merola and Marty Zimmerman. Ted Grant remembers Joe as one of the eight members of the "New York City Mafia" that served as weekend guides for non-New York City prep school classmates who traveled to the city at every opportunity.
Joe began his West Point experience trying to do everything in sight. In sports, he made the plebe baseball, football, and hockey teams. He excelled in academics, although he was never a "star" man. Joe's philosophy for academic success was to study intensely at the start of each semester, and the grades would then just fall into place. It must have worked because he graduated 36th in our class. After Plebe year, Joe backed off trying out for intercollegiate sports and concentrated on skiing and handball club sports.
I was Joe's roommate for the last two years, and can attest firsthand as to his academic prowess. He never seemed to have to study very hard, and he took very few final exams. While I was boning up after breakfast for every last tenth I could get, Joe was working on the New York Times crossword puzzle. While I was sitting in our room dreaming of my next weekend pass, Joe was forever off to New York City with the Handball Club. While I was on "the Area" for a very "minor" infraction, Joe was off dragging Rose. Life was not fair.
Joe initially was leaning towards going into either the Corps of Engineers or the Armor upon graduation, but during his Cow year, he switched to the Air Force.
Joe and Rose were married in traditional military-style wedding with A-2 companymates in the wedding party at the Cadet Catholic Chapel on 9 Jun 1956. Joe attended the normal pilot training schools, starting off with Marana Air Base in Tucson, AZ, and graduating as a F-100 tactical fighter pilot in April 1958. His first operational assignment was a three-year tour with the 8th Tactical Fighter Wing at Itazuke Air Base, Japan.
Recognizing Joe's piloting skills early on, the Air Force sent him to Luke Air Force Base, AZ, where he was assigned a for two years as a gunnery-instrument instructor.
Then Joe's outstanding piloting skills led him to an entirely different career path than his fellow Air Force officers. In 1963, he was selected to attend the prestigious U.S. Aerospace Research Pilots School at Edwards Air Force Base, CA. On graduation, Joe was assigned to the Fighter Branch of the Test Operations Division at Edwards, where he conducted flight testing on upwards of 30 different experimental aircraft.
In 1967, Joe was involved in a major aircraft accident while testing the OV-IO aircraft. His injuries were substantial, and he lost partial vision in one eye as well as his sense of taste and smell. While recuperating from his injuries, Joe earned a master's in aerospace management from the University of California-Los Angeles. With the extent of those injuries, Joe's role as an Air Force test pilot came to an end, opening the door to a new career in the Civil Service area at Edwards. His various assignments in that new career field included roles as an armament engineer, chief engineer of the F-15 Combined Test Force, branch chief supervising 36 avionics engineers, and the AFFTC microcomputer manager.
In 1986, Joe retired from the Civil Service and first worked for Ball Systems Engineering as a senior computer systems analyst and then as an independent contractor as a senior technical editor. Joe finally—and totally—retired in May 2000.
In 2001, Joe received a posthumous award from the Air Force Association. He was selected as one of 46 winners of the National Award for 2001 for a lifetime of aerospace achievement.
The major love of Joe's life was his family—his wife Rose; their three daughters: Donna Marie, Joanne, and Tina Rosalie; five grandchildren; and the great-grandson that he never saw. In addition, his 102-year-old mother survives him. Joe's other love in life was golf, which he took very seriously. The obituary in his local newspaper referred to him as "often having a few broken clubs in his bag." I can attest to Joe's fierce competitive nature in tennis, handball, racquetball, and yes—golf.
Joe suffered a massive heart attack on 9 Apr 2001 during a daily workout at his fitness center. As Rose wrote me concerning Joe's death, "He can now hit that golf ball as hard as he wants at that 'heavenly golf course.' "