From http://www.bringmanclark.com/obituaries/WilliamV-TracyJr-82524/Print/Wall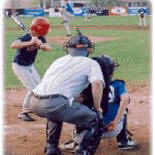 William V. Tracy Jr.
Mr. Tracy died at 5:20 p.m. Sunday, November 26, 2006 at his residence.
Willliam was born on February 23, 1948 in Hardin Co., Ohio to William V. Tracy Sr. and Maxine (Marshall) Tracy, and the both survive in rural Forest, Ohio. He married Gale V. Vaughan on January 18, 1985 and she survives in Forest.
Also surviving are a son, William V. Tracy III and a daughter, Charlotte G. Tracy, both of Forest; and a sister, Kathy Cooper, Forest. Preceding him in death are a brother, Gary Tracy.
William was an engineer at Buckeye Machine, Forest, Ohio. He earned his bachelor's degree in mechanical engineering from Ohio Northern University, Ada, Ohio. He retired in 1997 as a civilian engineer at Eglin Air Force Base in Florida. He also served the air force at Wright Patterson Air Force Base, Dayton, Ohio and Edwards Air Force Base in California. Mr. Tracy was a former little league and pony league baseball coach for Hardin Northern.