From http://www.legacy.com/obituaries/latimes/obituary.aspx?pid=152176671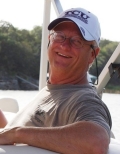 Lee Gardner Trlica
Trlica, Lee Gardner
November 6, 1947 - June 19, 2011
Lee Gardner Trlica, 63, died in a plane crash on the evening of June 19, 2011 in Stallion Springs, Calif.
Lee was born November 6, 1947 to Milton Joseph Trlica and Martha Beall Gardner in Beeville, Texas. He graduated with a B.S. in Aerospace Engineering from the University of Texas in Austin in 1972.
Lee married his wife Jacque Ohl in 1980 and settled with their two sons in Tehachapi in 1986.
Lee was a flight test engineer for Northrop Grumman for 25 years, making important contributions to the B-2 stealth bomber and many other advanced aviation projects. Additionally, he was active with the youths in his community through Boy Scouts and high school Robotics.
Lee is survived by his wife Jacque, his sons Andrew and Chad, Chad's wife Lauren, his brothers Warren and Milton Jr., his mother Martha and numerous nieces and nephews.
Published in the Los Angeles Times from June 23 to June 24, 2011