From Bob Kennington:
Bart Underwood worked on numerous projects at Edwards as both an officer and a contractor. I remember working with Bart years ago, and Ed Bradfield confirmed this is the same Bart Underwood he remembers from the B-1 program.
From Ed Bradfield:
I remember Bart Underwood. I don't think he ever acted at a test pilot. When I knew him, he was a navigator. Wasn't he flying with Mike Love in an F-4 that crashed on the lake bed, killing Mike Love? And Bart bailed out, landed on the roof of the Weight and Balance hangar and broke his leg? I can't remember if this was the same guy or not. When worked for Boeing, he was often in the control room during B-1 flights to look out for Boeing interests. We talked numerous times during these missions.
From http://www.legacy.com/obituaries/reporternews/obituary-preview.aspx?n=ellie-barton-underwood&pid=180984576&referrer=2863
Ellie Barton Underwood, Jr. Abilene, TX Ellie Barton Underwood, Jr. passed away on Sunday, July 24, 2016.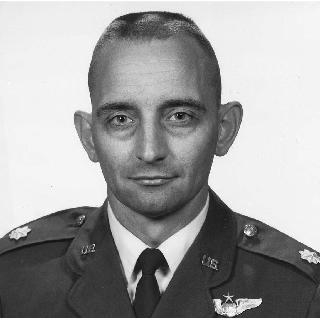 From https://www.findagrave.com/cgi-bin/fg.cgi?page=gr&GSln=underwood&GSmn=barton&GSbyrel=all&GSdyrel=all&GSob=n&GRid=167850664&df=all&
Ellie Barton Underwood, Jr
Birth: Jan. 27, 1939 Beeville Bee County Texas,
USA Death: Jul. 24, 2016 Texas, USA
Ellie Barton Underwood, Jr. passed away on Sunday, July 24, 2016. Barton was born on January 27, 1939 in Beeville, Texas to E.B. and Bobbie Underwood. Barton graduated from Ballinger High School in 1956, and in 1958, he married Patsy Lou Ashton, also of Ballinger. They moved to Austin where Barton attended the University of Texas and later graduated with a B.S. in Aeronautical Engineering. After graduation, Barton joined the U.S. Air Force where he served in the Vietnam War and then became a test pilot and then navigator, flying such notable aircraft as the F-4, the B-1A, the U-2, the C-130, the B-57, and any others the Air Force put in front of him.
In 1968, they welcomed son, Brennan Clay into their lives. During his military career the family lived in California, Ohio, Washington, Texas and Guam, returning to Abilene in 1982. He retired from the Air Force as a Major with many military medals awarded. After working briefly as a computer consultant, he then worked several years as an aeronautical engineer for Boeing, including working on the B-1 Bomber simulator at Dyess AFB and other work at Edwards AFB in California until retiring in 1993.
Barton was dedicated first and foremost to his family, including them in every move with the Air Force and providing the family with many wonderful and exotic memories. He was extremely strong in his Christian faith and was greatly respected for his keen intelligence and wit. He was passionate about the outdoors, hunting and fishing anytime he could. He served as a mentor to many friends, and he will be missed dearly.
Barton was preceded in death by his former wife, Patsy Underwood King, in 2010; his father, E.B., in 1995; and his mother, Bobbie, in 2009.
Surviving Barton is his loving son, Brennan and wife Sydney Alderman Underwood; grandson, Hunter Haralson, of Abilene; brother, Martin Underwood and wife Janie of Comstock, Texas; sister, Pamela Avey-Underwood of San Angelo; niece, Marti Yglesias and husband Eloy of Junction, Texas; nephew, Geoffrey Connor of Austin; niece, Jacqueline Kelly of San Angelo; niece, Jill Connor Whetstone of Christoval, Texas; and niece, Dixie Underwood of Del Rio.